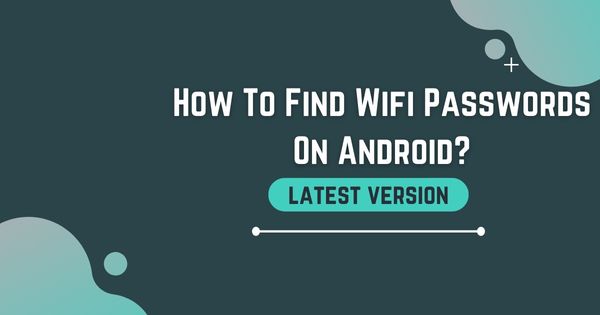 You've likely connected to many Wi-Fi networks over the years you have owned your Android device. Your Android device has saved all of the Wi-Fi passwords you entered into your Android device for future reference.
The problem comes when you need to see the network password. You might want to connect another device to a Wi-Fi access point saved to your device, or you may be able to log in with a friend to the same hotspot. You won't see the passwords stored on your device if you don't have access to them.
But here, we will share some steps of "How To Find Wifi Passwords On Android?". So, read this article at the end to find passwords on android.
How To Find Wifi Passwords On Android?
Most Android devices are preinstalled with the wifi feature, and it is a default option for the user. There are many ways to find wifi passwords on android inbuilt apps.
Here we are sharing a method with you with which you can find wifi passwords on android. But remember, this method will not work in some of the old version android services. So, firstly make sure that you are on the new versions.
Android allows you to access WiFi passwords secretly without rooting your device. You might be able to view the WiFi passwords of saved networks if you have Android 10 or higher. These steps will help you do that:
First, find the settings in your phone and then find the WiFi option.
All saved WiFi networks will be displayed. Tap the gear icon or the setting icon next to the name of the network.
You will find the option to tap to share your password or scan a QR code.
Take a picture of the QR Code. Go to Google Play Store and get a QR scanner app.
Open the QR scanner app, and scan the QR code generated. With ease, you will be able to see the name of the WiFi network and the password.
What If It Still Doesn't Recover?
It is a simple task to recover your WiFi password from an Android phone. You can find the WiFi password using the Command Prompt in Windows if the computer can connect to the WiFi.
If the methods above don't work for you, then reset the WiFi password on your router. Ask the person responsible for it to give you the password if it isn't your WiFi router. You shouldn't use the WiFi if you don't have the router or want the person to help you.
Final Words
So, I hope these methods of recovering WiFi passwords will help with your query "How To Find Wifi Passwords On Android?". In most Android phones, this method will work. But as I already told you, if you have several years old android versions installed on your smartphone, that method will not work for you.
However, in today's time, most people have the new android versions of smartphones in which this method will work. So, follow every step carefully and find wifi passwords on android.